Incredible Kruger Park Safari: an 11-day Birding & Wildlife Safari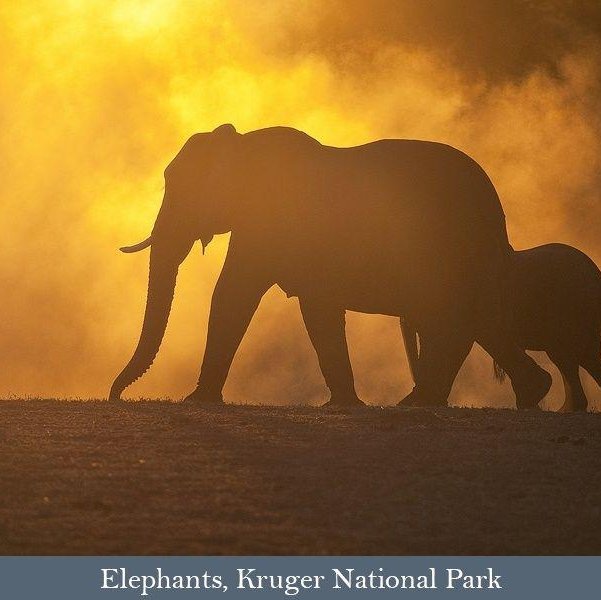 Our Incredible Kruger National Park Safari was designed with a specific goal in mind. That is to focus entirely on the Kruger, and the best bits of Kruger at that. So, we've based this trip on two of the most game-rich areas, Satara and Lower Sabie. We'll spend four nights at each of these, with two nights at Letaba on the way in to the area. The idea is to spend less time moving camps and more time exploring and observing animals. On full days in camps one's not rushed to pack up and check out. Therefore, with more time in fewer camps we can spend more time out in the field, observing and photographing birds and animals. To sum up, for those who like the idea of a relaxed, in-depth wildlife experience, this Kruger Park Safari is just the ticket.
Areas covered:
Our Kruger Park Safari tour starts in Phalaborwa, at the Hendrik Van Eck Airport (accessed via a direct flight from Johannesburg). The gate to the Kruger Park is just minutes away, and after entering we'll make our way to Letaba Rest Camp. Letaba is situated on the Letaba River, and is a nice introductory camp. From there we drive south to our first core stop at Satara, where we have 4 nights. Our next destination is on the Sabie River at Lower Sabie, with another 4-night stop. To end of, we'll make our way to Skukuza Airport for onward flights.
Accommodation:
The accommodation is of a medium-plus standard. It includes National Park chalets. Importantly, all accommodations have en-suite facilities, and are clean and comfortable.
The mammals:
The wildlife to be seen on this Kruger Park safari is fantastic! Indeed, the abundance and variety is stunning. Top of the list is the exciting big predator component – Lion, Leopard, Cheetah, Wild Dog, Spotted Hyena and Nile Crocodile. The big herbivores are a close second – Elephant, Buffalo, White Rhino and Hippopotamus. And then there's the spectacular array of plains game: Zebra, Giraffe, Blue Wildebeest, Kudu, Nyala, Impala, Common Waterbuck, Warthog and many others. On the smaller scale some of the other predators are on offer: Honey Badger, Serval, African Wild Cat, a range of Mongoose Species, Genets and so forth. See the species check list on the digital itinerary for the full species list.
The birding:
In addition to the animals, there are some stunning birds to be seen on this trip. We'll concentrate on the more photogenic species, as photography as an integral part of this Kruger Park safari. We may sit for a while to get shots of a Martial Eagle or a Lilac-breasted Roller taking off. We'll spend time photographing the Storks, Herons, Kingfishers, Spoonbills and other waterbird action at Sunset Dam. We'll stop to photograph White-fronted Bee-eaters hawking insects, Sunbirds feeding on flowers, Pied Kingfishers hovering over water… Indeed, the beauty of this itinerary is to have the time to sit, observe and take photographs.
In conclusion, this Kruger Park Safari offers a slower, more in-depth safari experience. The focus is on wildlife viewing and bird / animal photography. With more time spent at camps there's less packing and moving. This therefore gives participants time to enjoy the camps themselves and what the different areas have to offer. Furthermore, on full days spent in camp the safari excursions are optional – participants are welcome to skip drives as they prefer (but that always comes with the risk of missing out!). All in all this will add up to a Kruger National Park safari experience that's exciting but at the same time relaxing! And why not add on time at a private lodge or Cape Town afterwards?
Gallery
Itinerary
Tour in brief
Group size: maximum of 6 participants.
Areas Visited: Kruger National Park.
Expected weather conditions: Generally mild to warm and dry, but early morning drives in open vehicles can be cold, so adequate clothing such as a thick fleece and windbreaker are recommended.
Tour tempo: slow to medium, with downtime in camp and drives being optional (on days we don't move from camp to camp).
Accommodation standards: medium - national park chalets.
Mammal viewing: Excellent, including chances for the Big Five (Lion, Elephant, Buffalo, Rhino and Leopard) as well as Wild Dog and Cheetah; chances for smaller carnivores such as Honey Badger, African Wild Cat, various Mongoose species etc, plus a range of antelope, Giraffe, Hippo, Zebra etc.
Birding: great birding opportunities, highlights include a range or Raptors, Bustards, Rollers, Bee-eaters, Shrikes, Starlings, Owls, Sunbirds ect.
Other wildlife and attractions: classic Kruger Park scenery and general natural history.
Add-ons: this tour can be combined with additional time in the Kruger, a private lodge add on or a visit to other parts of the country (one can include the Eastern Escarpment in a road journey to Phalaborwa or back to Johannesburg instead of flying out of Skukuza.
Rates
2022: ZAR 47 290 per person sharing; ZAR 10 500 single supplement
2023: ZAR 49 370 per person sharing; ZAR 10 695 single supplement

Price may be subject to change based on factors beyond our control. 
Includes
Accommodation
All breakfasts and dinners
A Wild Card to cover all daily Conservation fees
Ground transport
A Lawson's branded insulated water bottle
Personalised checklists
Specialist guide fees
Excludes
All airfares
Travel and medical insurance
Lunches
All drinks
Optional excursions where applicable
Gratuities
Items of a personal nature
Note:
This itinerary is subject to change due to weather conditions at the time and other factors beyond our control.
The species mentioned in the itinerary represent only some of the possible ones we may see on the tour, however, none of these can be guaranteed even though every effort will be made where possible to locate them. A full list of possibles appears on your checklist.
Participants can get the late morning flight after arriving in Johannesburg. Tour ends at Skukuza Airport on the last day of the tour, from where participants can fly back to Johannesburg in time for late evening trans-continental flight or other onward plans. Please check with us before booking any flights.