Essential Namibia Birding Safari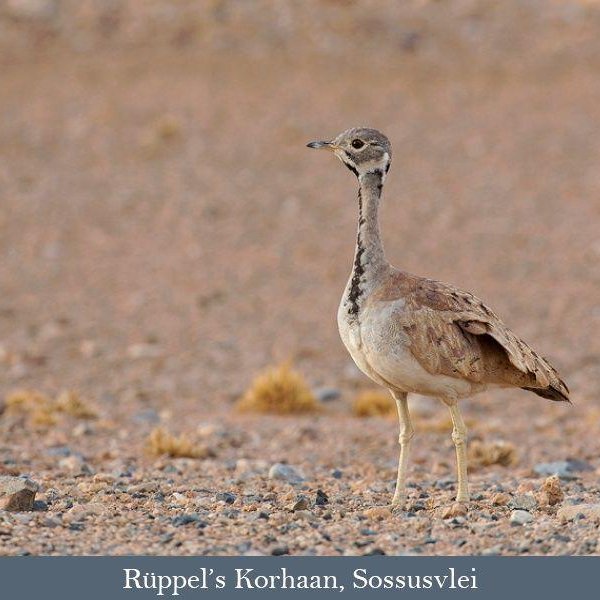 This Namibia Birding Safari is a must for any keen birder! Indeed, the birds, other wildlife, landscapes and vast open spaces will touch your soul. Our itinerary covers the best birding and wildlife venues of Central and Northern Namibia. From the great orange sand dunes of Sossusvlei to the plains of Etosha, each day delivers new wonders. And, while Namibia's bird list is not as big as those of more verdant countries, it's packed with near-endemics and specials. In short, it's simply unique in every way. Namibia awaits – let us show it to you!
Areas covered:
Our Namibia Birding Tour begins in Windhoek. After one night there we take a spectacular drive to Sesriem, gateway to the iconic dunes of Sossusvlei. From there we trek across to the Atlantic Coast, overnighting in Swakopmund. Then it's inland to the stunning Erongo Conservancy for birding in some unforgettable scenery. Etosha is then perhaps the highlight of the trip. Indeed, it's one of Africa's great parks, at its best now at the end of the dry season. We then have a last stop on the tour in the Waterberg area before finishing off back at the airport near Windhoek.
Accommodation:
Your accommodation on this Namibia Birding Safari is of a medium-plus standard. It includes a travel inn, three private lodges, and national park's chalets. Importantly, all accommodations have en-suite facilities, and are clean and comfortable.
The birding:
The south-west African endemics are the main focus on this Namibia Birding Tour. These are birds that only occur in Namibia and Angola. In addition, we'll also focus on the species that have a slightly wider distribution, occurring in western South Africa as well. Furthermore, there are also more ubiquitous African species to be seen. Our target birds include Dune Lark, Herero Chat, Rüppel's Korhaan, Gray's Lark, Chestnut-banded Plover, Damara Tern, Hartlaub's Spurfowl, Damara Rockrunner, Burchell's Courser, Ludwig's Bustard, Secretarybird, Bare-cheeked and Black-faced Babblers, Violet Wood-Hoopoe, Carp's Tit, White-tailed Shrike, Rüppel's Parrot, Montiero's Hornbill, Pygmy and Red-necked Falcons, Sociable Weaver, Short-toed Rock Thrush, Rosy-aced Lovebird  and many others.See the species check list on the digital itinerary for the full species list.
The mammals:
Africa is synonymous with mammal viewing and Namibia is no exception. There are plenty of mammals and other interesting things to see on this Namibia Birding Safari. In this respect Etosha will be the highlight. In particular, it is famous for its waterhole game viewing. And in fact, the waterhole viewing can be among the best on the continent. Moreover, it's probably the best destination there is for Black Rhino. And the Lion sightings are legendary! Other species to see include African Elephant, Southern Giraffe, Springbok, Black-faced Impala, Oryx, Cheetah, Leopard, Honey Badger, Brown Hyena, Black-backed Jackal and plenty more. In addition, there's a range of reptiles, amphibians, butterflies and other insects to be seen.
In conclusion, this Namibia Birding Safari will touch your soul. Birds, wildlife, scenery and good food combine to create a unique destination. Come, let us show you Namibia! For those who like more of a focus on wildlife, have a look at our Essential Namibia Wildlife safari. 
Gallery
Itinerary
Tour in brief
Group size: maximum of 8 participants; 4 participants per guide / vehicle.
Areas visited: Windhoek, Sossusvlei, Swakopmund, Erongo, Etosha, Waterberg.
Expected weather conditions: the interior will by hot and mildly humid this time of year, whilst the areas along the coast and in the Namib Desert such as Sossusvlei can be cold in the evening. There is a chance of rain in Etosha and Erongo.
Tour tempo: medium to medium-plus, optional mid-day breaks at certain points (advisable on hot days), a few long drives where we'll be out for most of the day.
Accommodation standards: medium plus; guest houses and lodges.
Birding in brief: good variety of habitats; a mix of Desert, Bushveld, Semi Desert and coastal lagoons.
Top birds: Hartlaub's Spurfowl, Herero Chat, Rüppell's Korhaan, Ludwig's Bustard, Gray's Lark, Violet Wood-hoopoe, Dune Lark, Rüppell's Parrot, Montiero's Hornbill, White-tailed Shrike, Bare-cheeked Babbler, Carp's Tit, Damara Tern, Chestnut-banded Plover, Augur Buzzard, Martial Eagle, Damara Rockrunner and Rosy-faced Lovebird.
Mammal viewing: good game viewing in areas with special species such as Hartmann's Mountain Zebra, Damara Dik-Dik, Kaokoveld Rock Hyrax, Black-backed Jackal and Oryx. Etosha offers a good selection of big game including African Elephant, Lion, Black Rhinoceros, Southern Giraffe and 'Black-faced' Impala.
Other wildlife and attractions: the Namib Desert, Sossusvlei, Swakopmund Town, Etosha National Park, Spitzkoppe and the Welwitschia Welwitschia mirabilis.
Add-ons: this tour can be combined with the Kruger National Park, Victoria Falls or Cape Town.
Rates
2022: ZAR 70 500 per person sharing; ZAR 2 695 single supplement
2023: ZAR 73 300 per person sharing; ZAR 3 490 single supplement
Price may be subject to change based on factors beyond our control. 
Includes
Accommodation
All breakfasts, lunches and dinners
Entrance fees
Ground transport
Bottled water in Lawson's vehicle whilst travelling
Personalised checklists
Specialist guide fees
Excludes
All airfares
Travel and medical insurance
All drinks
Optional excursions where applicable
Gratuities
Items of a personal nature
Note:
This itinerary is subject to change due to weather conditions at the time and other factors beyond our control.
The species mentioned in the itinerary represent only some of the possible ones we may see on the tour, however, none of these can be guaranteed even though every effort will be made where possible to locate them. A full list of possibles appears on your checklist.
Tour ends in Windhoek on the last day of the tour in time for afternoon flights back to Johannesburg or other destination (and evening transcontinental flights). Please check with us before booking any flights.