Essential Namibia Wildlife Safari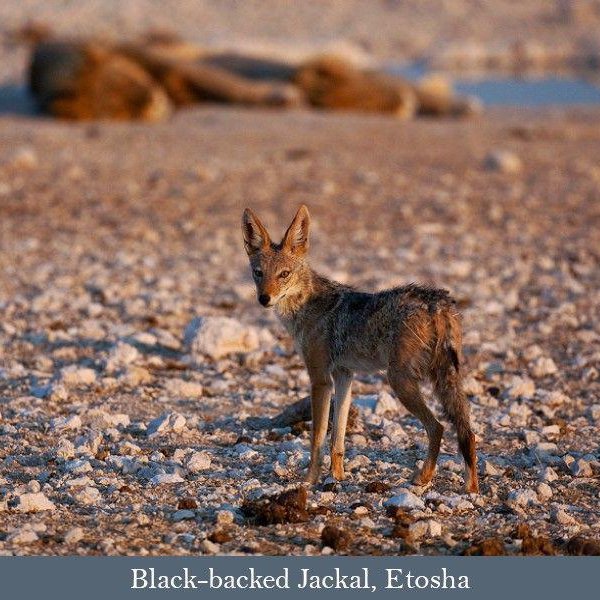 Namibia as a country is, if anything, rather unique. Likewise, a Namibia safari tour promises to be a very unique experience. For example, in Sossusvlei the play of light on the towering sand dunes will amaze you. A 'Living Desert' trip to observe the incredible life forms of the Namib 'dune sea' will astound you. Seeing the desert-adapted Elephants of Damaraland will move you. And watching the action unfold at a crowded waterhole in Etosha will excite you… Indeed, this 13-day Namibia safari offers something that just isn't matched by any other African safari experience.
Areas covered:
We start our Namibia Safari with a night in Windhoek. After that our next stop on the tour is at Sesriem, gateway to the iconic landscapes of Sossusvlei and Deadvlei. Moving on we visit the Atlantic Coast with a couple of nights in Swakopmund. Heading back inland we then visit the remote Damaraland region. Then it's the exquisite game viewing of Etosha. And we divide our time here between two different camps. And finally, we visit the Erongo Mountain Conservancy before ending off back in Windhoek.
Accommodation:
The accommodation is of a medium-plus standard. It includes a travel lodge, two lodges, a guest house and a couple of National Park resorts. Importantly, all accommodations have en-suite facilities, and are clean and comfortable.
The mammals:
The wildlife of Namibia is as unique and interesting as the country itself. We'll stand a chance of seeing most of Africa's iconic game species on this Namibia safari. These include species such as: African Elephant, Lion, Leopard, Cheetah, Giraffe, Plains Zebra, Red Hartebeest, Common Wildebeest and others. Moreover, there are also some south-west African species to see, such as Gemsbok and Springbok . Other interesting mammals include: Damara Dik-dik, Dassie Rat, Honey Badger, Black-faced Impala, Hartmann's Mountain Zebra, Rock Hyrax and Black Rhino. Indeed, Namibia is probably the best place on earth to see the latter. In addition, on our Living Desert tour we'll be looking for some very interesting desert-dwellers such as: Namib Sand Gecko, Shovel-snouted Lizard, Namaqua Chameleon, Peringuey's Adder, Tenebrionid beetles and many more. See the species check list on the digital itinerary for the full species list.
The birding:
Birds aren't the main focus of this Namibia Wildlife Safari. But, while we won't deviate from the main goal of seeing wildlife, there are still some great birds to be seen. These include Common Ostrich, Kori and Ludwig's Bustards, Rüppell's Korhaan, Rosy-faced Lovebird, Verreauxs' Eagle, Augur Buzzard, Lappet-faced Vulture, Lilac-breasted Roller, Crimson-breasted Shrike and many more. However, if you'd prefer more of an emphasis on birding, then have a look at Essential Namibia Birding.
In conclusion, this Namibia Wildlife Safari offers a captivating and unique wildlife experience. From the dunes of Sossusvlei, to the dusty plains of Etosha and the striking rock outcrops of Erongo, this will be a phenomenal wildlife safari.
Gallery
Itinerary
Tour in brief
Group size: maximum of 8 participants; 4 participants per guide / vehicle.
Areas visited: Windhoek, Sossusvlei, Swakopmund, Twyfelfontein, Etosha, Erongo.
Expected weather conditions: variable, but mainly hot and dry, though it can be cool at the coast.
Tour tempo: medium-plus; multiple nights at most destinations to allow for some rest periods during the heat of the day.
Accommodation standards: medium plus: lodges and guest houses and National Park's camps.
Mammal viewing: good all-round and excellent in Etosha, where big game occurs. Highlights may include Hartmann's Mountain Zebra, Black Rhino, Lion, Cheetah, African Wild Cat, Brown Hyena, Cape Fox, Bat-eared Fox, Aardwolf, Damara Dik-Dik and Black-faced Impala, among others.
Other wildlife and attractions: interesting botany, superb scenery and photographic opportunities. Photographers will need a range of lenses to make the most of the opportunities.
Add-ons: this tour can be combined with the Kruger National Park, Victoria Falls or Cape Town.
Rates
2022: ZAR 72 390 per person sharing, ZAR 5 850 single supplement
Price may be subject to change based on factors beyond our control. 
Includes
Accommodation
All meals
Ground transport
Bottled water in Lawson's vehicle whilst travelling
Entrance fees
Personalised checklists
Specialist guide fees
Excludes
All airfares
Travel and medical insurance
All drinks
Optional excursions where applicable
Gratuities
Items of a personal nature
Note:
This itinerary is subject to change due to weather conditions at the time and other factors beyond our control.
The species mentioned in the itinerary represent only some of the possible ones we may see on the tour, however, none of these can be guaranteed even though every effort will be made where possible to locate them. A full list of possibles appears on your checklist.
Tour ends in Windhoek on the afternoon of the last day of the tour in time for afternoon flights back to Johannesburg or other destination (and evening transcontinental flights). Please check with us before booking any flights.