Focus on Predators: Kruger and Sabi Sand Safari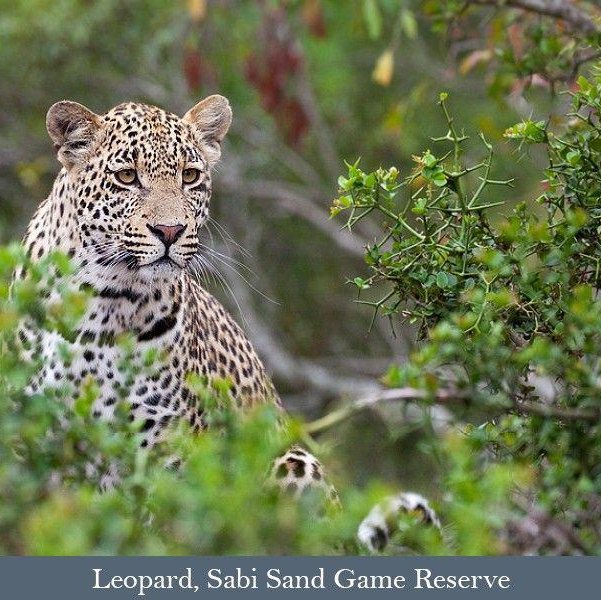 This Kruger and Sabi Sand Safari is sure to impress! It's based on a solid itinerary visiting the Kruger National Park and Sabi Sand Game Reserve. Indeed, these two destinations offer what is in our opinion the best authentic game viewing in the country. Of course the big cats and the other big predators are a strong focus of this tour. But there's a lot more to see! Elephants, Buffalo, Giraffe, Zebra and other classic species will fill in the moments between big predator encounters. In fact, you'll find that there's not a dull moment on the whole tour! Our Kruger and Sabi Sand Safari will suit anyone with an interest in wildlife. But photographers will be especially pleased with it, as the photo opportunities are second to none.
Areas covered:
Lawson's Kruger and Sabi Sand Safari tour starts with an arrival at Kruger Mpumalanga Airport. From there we start off with the Kruger National Park, spending time at two camps. After that we leave the Kruger and end off with a stay at a private lodge in the Sabi Sand Game Reserve, the highlight of the tour. After that, departures are via one of the regional airports for a flight back to Johannesburg or on to Cape Town.
Accommodation:
The accommodation on this trip is of a medium to high standard. It includes national park's chalets and a luxury private lodge. Importantly, all accommodations have en-suite facilities, and are clean and comfortable.
The mammals:
A Kruger and Sabi Sand Safari Tour is all about the mammals! And the big predators are top of the list. Indeed, Lions and Leopards are virtually guaranteed on this tour. Cheetah and Wild Dog are a little bit more elusive, but we still have a high success rate with both of these. In addition, there's the full range of classic African species to see. You'll have plenty of encounters with Elephant, Buffalo, Giraffe, Zebra, Hippopotamus, Wildebeest and a range of Antelope species. And with luck also more unusual species like Honey Badger, African Wild Cat, Civet and Genet. See the species check list on the digital itinerary for the full species list.
The birding:
Birds are not the main focus of this Kruger Photo Safari. However, we can't ignore some of the more impressive feathered fauna. Consequently, we'll no doubt show you some fantastic birds such as: Martial Eagle, Bateleur, White-fronted Bee-eater, Lilac-breasted Roller, Scarlet-chested Sunbird and others, sticking to the big, colourful and photogenic species.
In conclusion, this Kruger Safari trip offers a cracking wildlife experience. Be prepared to be blown away by some incredible sightings. Indeed, the sheer volume and diversity of what you will see will be amazing – and can't really be appreciated until you are on the flight home at the end of it all!
Gallery
Itinerary
Tour in brief
Group size: maximum of 6 participants with 1 guide.
Areas visited: Kruger National Park and Sabi Sand Game Reserve (note that for the 2021 itinerary we have changed the Kruger / Sabi Sands mix to 5 days Kruger and 3 days Sabi Sands, and reduced the Sabi Sands to 1 lodge. This has been done to curb the overall price increase of the tour).
Expected weather conditions: warm to hot during the day. Early morning and evening drives in open safari vehicles can be cool to cold, due to wind-chill factor. Little chance of sustained rain.
Tour tempo: medium to medium-plus, depending on the level of interest of the group. The Kruger section is faster-paced, while the private lodge section involves long rest periods between activities.
Accommodation standards: medium to high: private lodges and National Park's rest-camps.
Mammal viewing: excellent, especially in the private reserves. Full range of species can be seen, including the Big Five (Elephant, Rhino, Cape Buffalo, Lion and Leopard) as well as Cheetah, Wild Dog and Spotted Hyena. Top class photographic opportunities.
Other highlights: great birding opportunities, wonderful scenery and landscapes.
Add-ons: those who have more time available can add extra days on to the safari, or extensions to the Cape for the flowers, or to Victoria Falls. Contact us for ideas and prices.
Rates
Please email us for rates, as this is now available as an on-request tour

Includes
Accommodation
All breakfasts and dinners in Kruger
All meals in Sabi Sands
Entrance fees
Ground transport
Bottled water in Lawson's vehicle whilst travelling
Personalised checklists
Specialist guide fees
Excludes
All airfares
Travel and medical insurance
Lunches in Kruger
All drinks
Optional excursions where applicable
Gratuities
Items of a personal nature
Note:
This itinerary is subject to change due to weather conditions at the time and other factors beyond our control.
The species mentioned in the itinerary represent only some of the possible ones we may see on the tour, however, none of these can be guaranteed even though every effort will be made where possible to locate them. A full list of possibles appears on your checklist.
The exact itinerary will depend on availability, but will still include 5 nights in the Kruger National Park and 3 nights in the Sabi Sand Game Reserve.
Tour ends at Kruger / Mpumalanga International Airport on the last day of the tour in time for connecting flights and evening transcontinental flights from Johannesburg. Please check with us before booking any flights.