Tanzania Wildlife Safari: the Northern Circuit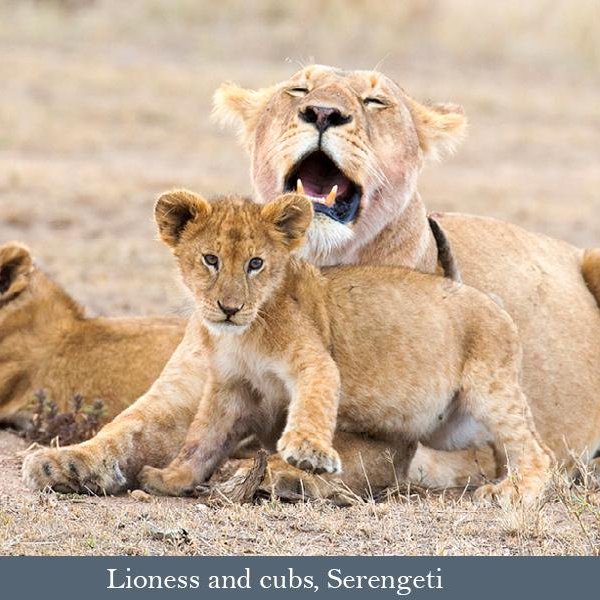 This Tanzania Wildlife Safari, visiting the 'northern circuit', is a new offering from Lawson's. Africa is the stage for the world's best wildlife viewing. After all, the continent holds a staggering 25% of the world's mammal species! East Africa holds a prime spot on the continent in terms of the wildlife spectacular. The great Wildebeest migration. Elephants or Giraffes on the plains with a snow-capped peak as a backdrop. Ancient volcanic craters packed with plains game… For the Africa-enthusiast East Africa is a must. And nowhere is the safari experience more dazzling than in the great parks of Tanzania.
Areas covered:
Our Tanzania Wildlife Safari starts at Kilimanjaro International Airport. After a night to settle in the safari experience begins. We start with a visit to Arusha National Park, on the slopes of Mount Meru. We then have two nights in Tarangire National Park. From there it just gets better and better. Next up is the Ngorongoro Crater. Moving on, we explore the Ndutu area. Finally, we end off with three nights in the central Serengeti. The tour concludes with either a night in Arusha, or a drop off at the airport. This will depend on outbound flight times.
Accommodation:
The accommodation on this trip is of a medium-plus standard. It includes a small boutique hotel and various safari lodges. Importantly, all accommodations have en-suite facilities, and are clean and comfortable.
The mammals:
Our Tanzania wildlife safari is primarily a mammal experience. Large mammal biomass and wide-open spaces are hallmarks of Tanzania's northern circuit. Mammals to see include the classic game species of Africa. These are species such as: Lion, Elephant, Leopard, African Buffalo, Masai Giraffe, Hippopotamus, Plains Zebra and even Black Rhino with some luck. In addition, there's a massive array of different Antelope and Gazelle species to be seen. Then there are primates, such as Olive and Yellow Baboons, Black-and-White Colobus, Vervet and Syke's Monkeys, and perhaps Galago's / Bush Babies after dark. And let's not forget other carnivores such as Striped and Spotted Hyenas, Golden and Black-backed Jackals, Honey Badger, Serval, African Civet and so forth. Then there's the famous Pumba – the much-loved Common Warthog. Indeed, there's plenty to see on this safari! See the species check list on the digital itinerary for the full species list.
The birding:
Although this is primarily a mammal tour, there will be plenty of birds to be seen as well. Savanna species are well represented. These include species such as: Grey-breasted Spurfowl, Bare-faced Go-away Bird, Red-and-Yellow Barbet, Fischer's Lovebird, Rosy-throated Longclaw, Secretarybird, Rüppell's Griffon, Hildebrandt's Starling, Golden-winged Sunbird, Grey Crowned Crane and many more.
In conclusion, our Tanzania Wildlife Safari will probably be the safari experience of a lifetime. Mind you there is a saying about Africa. Visit once and you are bound to return again… If you want to see some of the best wildlife in all of Africa, then this tour is definitely for you. For those who want to add on, we can arrange for a Masai Mara extension. Contact us for more info.
See the 2022 Tanzania's Northern Circuit trip report. 
Gallery
Itinerary
Tour in brief
Group size: limited to a maximum of 5 participants per vehicle.
Areas visited: Arusha, Tarangire, Lake Manyara, Ngorongoro Crater, Ndutu and the Serengeti.
Expected weather conditions: warm to mild days to be expected, with a chance of some rain as November typically heralds the start of the 'short rains', though with climate change these are becoming far less predictable.  
Tour tempo: medium to medium-plus; some long travelling days and some full days out on safari. 
Accommodation standards: good to high: private guest houses, lodges and mobile camps.
Mammal viewing: Outstanding! Unbeatable for multitudes of plains game and predator action.
Top mammals: Maasai Giraffe, Thomson's and Grant's Gazelle, Defassa Waterbuck, Topi, Coke's Hartebeest, Plain's Zebra, Bearded Gnu, Leopard, Lion, Cheetah, Elephant, Buffalo, Black Rhino, Kirk's Dik-Dik, Olive Baboon, Golden Jackal.
Birding in brief: Excellent, many of the East African specials to be seen.
Top birds: Grey-breasted Spurfowl, Eastern Grey Plantain-eater, Jackson's Widowbird, Fischer's Lovebird, Rosy-throated Longclaw, Secretarybird, Rüppell's Griffon, Hildebrandt's Starling, Golden-winged Sunbird, Grey Crowned Crane and many others.
Rates
2024:

5 participants:            USD 6 825 per person sharing ($525 per day).
4 participants:            USD 7 350 per person sharing ($565 per day).
3 participants:            USD 8 165 per person sharing ($628 per day).
Single supplement:    USD 630
Price may be subject to change based on factors beyond our control. 
Price excludes the last night in Arusha should this be necessary due to your flight plans.
Contact us for prices for 2 people or other group sizes.
Includes:
Accommodation
All meals (except lunches and  dinners on first and last days)
Entrance fees
Ground transport in 4x4 photographic converted Land Cruiser
Charter flight (Seronera - Kilimanjaro)
Bottled water in vehicle whilst travelling
Personalised checklists
Specialist guide fees
Excludes:
All airfares 
Travel and medical insurance
Additional accommodation in Arusha if necessary
Lunches and dinners on first and last day
All drinks
Optional excursions where applicable
Gratuities
Items of a personal nature
Note:
This itinerary is subject to change due to weather conditions at the time and other factors beyond our control.
The species mentioned in the itinerary represent only some of the possible ones we may see on the tour, however, none of these can be guaranteed even though every effort will be made where possible to locate them.  A full list of possibles appears on your checklist.
Participants need to co-ordinate their arrival at Kilimanjaro International Airport for the transfer to Arusha. Please consult with us before booking any flights. On the last day participants may need to overnight in Arusha again, depending on the time of outbound flights. This accommodation is not included in the tour price, but we are happy to arrange it.