Western South Africa Endemics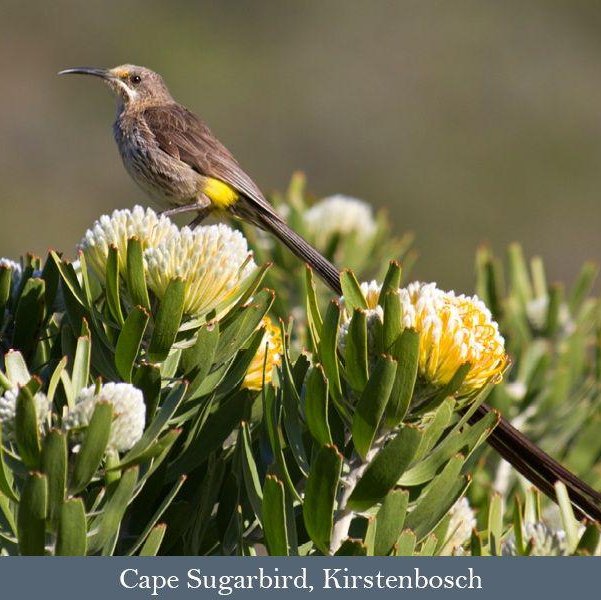 This birdwatching safari is the first of our two-part 'mega-tour'. South Africa is extremely rich in endemic birds. It's home to 69 endemics and near-endemics. And there are two bird families that are essentially endemic. These are the Rockjumpers and the Sugarbirds. They are shared only with the small land-locked countries of Lesotho and eSwatini. In his outstanding book, The Birder's Guide to Africa (ISBN978-0-620-71725-0), Michael Mills rates it as the top African country in 3 out of 5 categories, and number 2 in one of the other two categories. And the large number of endemics and near-endemics play a large part in this high rating. Thus, the endemics and near-endemics are the main focus of our two endemics tours.
For global birders this gives the chance to see almost all of the endemics and a large proportion of the near-endemics in one go. Now that's a pretty awesome goal! This Western South Africa Endemics birdwatching safari precedes our Eastern South Africa Endemics tour. Note that the two back-to-back tours can be done together to form a South African Endemics mega-tour. Alternatively, they can be done as stand-alone tours.
Areas covered:
Our western South Africa Birdwatching Safari tour starts in Upington. From there we visit Augrabies Falls National Park. Moving on, we then stay in the Springbok area followed by Calvinia. Then it's Langebaan on the Atlantic Coast, followed by Simon's Town on the Cape Peninsula. After that we stay in Swellendam, before a final night in Wilderness. The tour then ends in George at the airport for flights to Johannesburg or to Durban to continue with Eastern South Africa Endemics.
Accommodation:
The accommodation on this trip is of a medium-plus standard. It includes national park chalets, B&B's and guest houses. Importantly, all accommodations have en-suite facilities, and are clean and comfortable.
The birding:
Endemics are the name of the game! Our South Africa birdwatching safari covers most of the birding hot-spots of the western side of South Africa. These spots have been chosen on the basis of their special birds and geographic location to create a concise route designed to maximise the chances for the endemics. These endemics include: Grey-winged Francolin, Southern Black Korhaan, Knysna Woodpecker, Knysna Turaco, Cape Weaver, Ground Woodpecker, Cape Rock Thrush, Southern Tchagra, Cape Rockjumper, Cape Sugarbird, Cape Siskin, Orange-breasted Sunbird, Agulhas Long-billed Lark, Karoo Lark, Red Lark, Large-billed Lark, Cape Bulbul, Victorin's Warbler, Forest Canary, Protea Canary and others. And on the exciting pelagic trip participants will be introduced to a host of marine species, including a range of Albatrosses, Petrels, Prions, Shearwaters, Storm Petrels etc.
Exciting near-endemics and other specials include: Blue Crane, Cape Vulture, Denham's Bustard, Secretarybird, Black Harrier, Jackal Buzzard, Cape Grassbird, Namaqua Warbler, Cinnamon-breasted Warbler, Karoo Eremomela, Karoo Korhaan, Swee Waxbill, Black-headed Canary, Cape Gannet, African Penguin, Crowned, Cape and Bank Cormorants, Malachite Sunbird and many others.See the species check list on the digital itinerary for the full species list.
The mammals:
This is primarily a birding safari, though there are some mammals to be seen. The western side of the country doesn't have the mammal biomass of the east. However, we may see species such as South African Giraffe, Rock Hyrax, Bontebok, Gemsbok, Springbok, Klipspringer, Cape Mountain Zebra, Cape Grysbok, Red Hartebeest and others. And by November numbers of Southern Right Whales offshore will be decreasing, but there should still be a fair few to be seen.
In conclusion, this South Africa Birding Safari offers the more serious birders a real chance at bagging most of the endemics of eastern South Africa. The pace is quite fast, as there's a lot of ground to cover, so it's not really suited to the more casual birder. But for serious birders, combining our two endemics tours offers a real chance to 'clean up' on South Africa's specials. Have a look at our Eastern South Africa Endemics safari, which begins the day after the Western leg ends.
Gallery
Itinerary
Tour in brief
Group size: maximum of 8 participants; 4 participants per guide / vehicle. 
Areas visited: Augrabies Falls, Springbok, Calvinia, Langebaan, Cape Peninsula, Swellendam, Wilderness.
Expected weather conditions: the interior will by hot and mildly humid this time of year, whilst the Western Cape will be pleasant but could be quite windy.
Tour tempo: medium-plus to fast paced.
Accommodation standards: medium; guest houses and National Parks accommodation.
Birding in brief: excellent variety of habitats and bird species, strong focus on birding.
Top birds: Sclater's Lark, Burchell's Courser, Cinnamon-breasted Warbler, Black-eared Sparrowlark, Cape Rockjumper, Victorin's Warbler, Knysna Warbler, Knysna Woodpecker, Orange-breasted Sunbird, Karoo Korhaan and Black Harrier.
Mammal viewing: although not strongly focused on mammals, a good selection of game is possible with Gemsbok, Dassie Rat, Cape Grysbok, Cape Mountain Zebra, Cape Fur Seal and Southern Right Whale.
Other wildlife and attractions: excellent plant diversity in the Cape and Namaqualand, scenic Cape Peninsula.
Add-ons: this tour can be combined with our Eastern South African Endemics set-departure.
Rates
2022: ZAR 57 650 per person sharing; ZAR 3 875 single supplement
2023: ZAR 59 540 per person sharing; ZAR 3 995 single supplement

Price may be subject to change based on factors beyond our control. 
Includes
Accommodation
Breakfasts and dinners
Ground transport
Bottled water in Lawson's vehicle whilst travelling
Entrance fees
Personalised checklists
Specialist guide fees
Excludes
All airfares
Travel and medical insurance
Lunches
All drinks
Optional excursions where applicable
Gratuities
Items of a personal nature
Note:
This itinerary is subject to change due to weather conditions at the time and other factors beyond our control.
The species mentioned in the itinerary represent only some of the possible ones we may see on the tour, however, none of these can be guaranteed even though every effort will be made where possible to locate them. A full list of possibles appears on your checklist.
Ends at George Airport on the last day of the tour in time for afternoon connecting flights to Durban (to continue with the Eastern SA Endemics Tour) or Johannesburg. Please check with us before booking any flights.