Eastern South Africa Endemics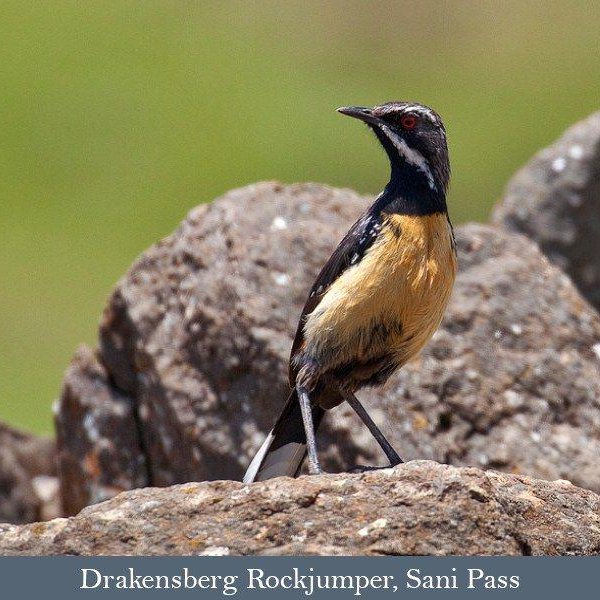 See the Endemic birds of South Africa. With the Western South Africa Birding Safari tour just completed, it's now time to tackle the Eastern side. Note that the two back-to-back tours can be done together to form a South African Endemics mega-tour. Alternatively, they can be done as stand-alone tours.
South Africa is extremely rich in endemic birds. It's home to 69 endemics and near-endemics. And there are two bird families that are essentially endemic. These are the Rockjumpers and the Sugarbirds. They are shared only with the small land-locked countries of Lesotho and eSwatini. In his outstanding book, The Birder's Guide to Africa (ISBN978-0-620-71725-0), Michael Mills rates it as the top African country in 3 out of 5 categories, and number 2 in one of the other two categories. And the large number of endemics and near-endemics play a large part in this high rating. Thus, the endemics and near-endemics are the main focus of our two endemics tours. For global birders this gives the chance to see almost all of the endemics and a large proportion of the near-endemics in one go. Now that's a pretty awesome goal!
Areas covered:
Our eastern South Africa Birding Safari starts in Umhlanga, near the port city of Durban. From there we do Sani Pass in the Southern Drakensberg. Next up on the trip is Eshowe and Dlinza Forest. We then move on to St Lucia on the Indian Ocean coast. Heading north we visit Tembe Elephant Park. Wakkerstroom and its first-class birding is next up. And then we visit the Kruger National Park. After that it's the misty forests of Magoebaskloof. And finally, we have a last stop in Polokwane. The tour then ends off in Johannesburg.
Accommodation:
The accommodation is of a medium-plus standard. It includes several guest houses, a tented safari lodge, national park chalets and a small hotel. Importantly, all accommodations have en-suite facilities, and are clean and comfortable.
The birding:
Endemic birds are the name of the game! Our South Africa birding safari covers most of the birding hot-spots of the eastern side of South Africa. These spots have been chosen on the basis of their special birds and geographic location to create a concise route. This route is designed to maximise the chances for the endemics. These endemics include: Drakensberg Rockjumper, Drakensberg Siskin, Gurney's Sugarbird, Bush Blackcap, Cape Vulture, Southern Bald Ibis, Ground Woodpecker, Cape Parrot, Eastern Long-billed Lark, Rudd's Lark, Botha's Lark, Blue Korhaan, Chorister Robin-Chat, Knysna Turaco, Buff-streaked Chat, African Rock Pipit, Yellow-breasted Pipit, Drakensberg Prinia and many others. Exciting near-endemics and other specials include: Blue Crane, Jackal Buzzard, Cape Vulture, Lammergeier, Southern Banded Snake Eagle, Bokmakierie, Plain-backed Sunbird, African Broadbill, Secretarybird, Livingstone's Turaco, Southern Ground Hornbill, Orange Ground Thrush, Narina Trogon, Short-clawed Lark and many others. See the species check list on the digital itinerary for the full species list.
The mammals:
Although this is primarily a birding safari, there are plenty of mammals and other wildlife to see. For example, these include the classic African big game species such as: Elephant, African Buffalo, Lion, Leopard, South African Giraffe and Hippopotamus. In addition, one can expect to see a range of Antelope, plus some smaller species such as various Primates, Honey Badger, Black-backed Jackal, various Mongoose species and others. In addition, there's a range of reptiles, amphibians, butterflies and other insects to be seen.
In conclusion, this South Africa Birding Safari tour offers the more serious birders a real chance at bagging most of the endemics of eastern South Africa. The pace is quite fast, as there's a lot of ground to cover, so it's not really suited to the more casual birder. But for serious birders, combining our two endemics tours offers a real chance to 'clean up' on South Africa's specials.
Have a look at our Western South Africa Endemics safari, for the endemics and near-endemics found in the other side of the country.
Gallery
Itinerary
Tour in brief
Group size: maximum of 12 participants; 6 participants per guide / vehicle.
Areas visited: Sani Pass, Eshowe, St Lucia, Tembe Elephant Park, Wakkerstroom, Kruger National Park, Magoebaskloof and Polokwane.
Expected weather conditions: generally warm to hot and humid at this time of year, though in the highlands of Sani Pass and Wakkerstroom it can get cold, depending on the exact weather conditions at the time. Some rain is probable as it's the start of the summer rainy season, though it shouldn't be disruptive.
Tour tempo: medium-plus to fast paced - there are lots of birds to see!
Accommodation standards: medium; guest houses and National Parks accommodation.
Birding in brief: excellent variety of habitats and bird species, strong focus on birding.
Top birds: Drakensberg Rockjumper, Drakensberg Siskin, Rudd's Apalis, Bearded Vulture, Pink-throated Twinspot, Rudd's Lark, Botha's Lark, Blue Crane, Blue Korhaan and Short-clawed Lark, among others.
Mammal viewing: although not strongly focused on mammals, we should see a good selection of game including African Buffalo, African Elephant, Southern Giraffe, Eland, Meerkat, Sloggett's Ice Rat, Lion and even Leopard.
Other wildlife and attractions: scenic Drakensberg Mountains, interesting culture in Lesotho, iSimangaliso Wetland Park and Kruger National Park.
Add-ons: this tour can be combined with the Western South African Endemics set-departure.
Rates
2023: ZAR 71 995 per person sharing; ZAR 7 000 single supplement
2024: ZAR 80 850 per person sharing; ZAR 6 795 single supplement

Price may be subject to change based on factors beyond our control. 
Includes
Accommodation
Breakfasts and dinners
Ground transport
Bottled water in Lawson's vehicle whilst travelling
Entrance fees
Personalised checklists
Specialist guide fees
Excludes
All airfares
Travel and medical insurance
Lunches
All drinks
Optional excursions where applicable
Gratuities
Items of a personal nature
Note:
This itinerary is subject to change due to weather conditions at the time and other factors beyond our control.
The species mentioned in the itinerary represent only some of the possible ones we may see on the tour, however, none of these can be guaranteed even though every effort will be made where possible to locate them. A full list of possibles appears on your checklist.
Participants should ideally overnight in Umhlanga on the night before the tour starts (this cost is not included). We are happy to arrange this accommodation. Tour ends in Johannesburg on the late afternoon of the last day of the tour in time for evening transcontinental flights. Please check with us before booking any flights.