Kenya Safari Photo Trip Report, May 2023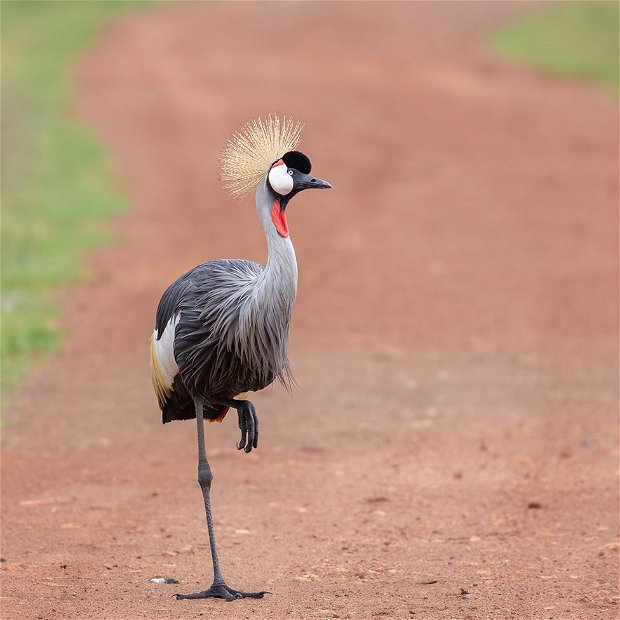 In May we finished our inaugural Birds & Wildlife of Kenya safari - 16 days covering some of the best birding and wildlife areas of Kenya. From Samburu - absolutely magical after good rains - to the Rift Valley Lakes, Kakamega Forest - a last remnant patch of rain forest that once extended much further eastwards across Kenya - to the famous Masai Mara, there was plenty to keep us occupied! Check out some great images in out Safari Photo Trip Report.
Kenya Safari Trip Report:
1. Samburu National Reserve:

A highlight of the safari! Samburu was outstanding in all respects. It was green and lush after good rains, with many areas covered in white flowers. The weather was great, and overall we felt like we'd landed in the Garden of Eden. Samburu is one of Kenya's top birding destinations, and it sure didn't disappoint. The Golden-breasted Starling (above) was one of the highlights. Other highlights included Vulturine Guineafowl, Somali Ostrich, White-throated Bee-eater, Fischer's Starling, Black-faced Sandgrouse, Von der Decken's Hornbill, Red-and-Yellow Barbet, African Orange-bellied Parrot (also referred to as Red-bellied Parrot), Rosy-patched Bushshrike, Parrot-billed Sparrow and many others. On the mammal side we saw the 'Samburu specials' - reticulated Giraffe (wow!), Gerenuk (we dubbed them 'pin-heads'), Grevy's Zebra, Desert Warthog and Beisa Oryx, all species of the arid parts of East Africa. Other highlights included two wonderful encounters with a trio of Cheetahs, as well as a sighting of a pair of African Wild Dogs, which was highly unusual.
Accommodation review:
In terms of accommodation, we stayed at Samburu Intrepids, which wasn't our first choice (Elephant Bedroom was undergoing renovations) but it worked out well. We were practically the only guests there, and they looked after us in splendid fashion. The camp is set on the bank of the Nwaso Ngiro river, which was flowing well. The other side of the river is community land, so every day there were herders and their stock down at the river, which doesn't happen at Elephant Bedroom, as it is opposite Buffalo Springs National Reserve. But, herders and donkeys aside, our stay was just wonderful.
2. Ol Pejeta Conservancy.

After Samburu we had a one night stop at Sweetwaters Tented Camp in the Ol Pejeta Conservancy. Unfortunately we weren't blessed with good weather during our time here, and it wasn't looking its best under grey skies. It is a fantastic conservancy, covering some 95 000 hectares, with Mount Kenya as a prominent backdrop to the east. We did manage to see quite a few birds though, despite the weather (our morning wasn't too bad), including Malachite Kingfisher, Striped Kingfisher, Eastern Grey Woodpecker, Black-lored babbler, Grey-capped Social Weaver, Grey Crowned Crane (common throughout our safari) and others, while mammal highlights included a large clan of Spotted Hyenas co-habiting with Common Warthogs in a communal den, the world's last two remaining Northern White Rhinos (within a secure enclosure, and differentiated from Southern White Rhino by the hairy ear fringes), as well as Eastern Tree Hyrax (pictured above), feeding in a Fever Tree in front of reception.
Accommodation review:
Accommodation was fine - Sweetwaters Tented Camp is quite big, and perhaps a bit 'commercial' (especially after Samburu!), but well run and perfectly adequate for a one night stay. The tents are clean and well-appointed, with views over a waterhole. The food was good, buffet-style with plenty on offer.
3. Lake Nakuru National Park.
All of us were blown away by Lake Nakuru National Park. Between the birds - especially the abundant water-associated species feeding on the lake margins - the mammals (lots of White Rhino - pictured above - Black Rhino, Rothschild's Giraffe) and the scenery (under perfect weather conditions), and our morning drive was just exquisite. Large numbers of Pelicans, Flamingos, Storks, Herons etc were feeding in the shallows, while away from the water the 'bush birds' were very active. We had a glorious picnic breakfast stop at Makalia Falls, birding while we ate, and keeping an eye on the Olive Baboons that had gathered around us.
Accommodation review:
In terms of accommodation, we stayed at Sarova Lion Hill, which was very nice - lots of rooms but quiet again, given the time of year - with nice grounds where one can easily see an afternoon out with some casual birding. Great food too! One will be hard pressed to even just sample every dish from the buffet...
4. Lake Baringo.

Moving on, our next stop was Lake Baringo - a large freshwater lake in the Rift Valley, the second-most northern lake after Lake Turkana. Unlike the more southerly lakes, Baringo is quite wild, and by night there's very few lights visible along the vast shoreline. In terms of the birding, we did a boat trip on the lake with local guide Titus, seeing a wide variety of water associated birds, Golden-backed and Northern Masked Weavers, Northern Red Bishop, Olive Bee-eater, Bristle-crowned and Magpie Starlings, Fish Eagle, had great flyovers by Grey Crowned Cranes, Jackson's Hornbill (also at the feeder at the lodge) and many others. We then had breakfast at the lodge, after which we joined Titus again, who showed us some of the special birds on his 'patch' - Northern White-faced Owl, Spotted and Greyish Eagle Owls, Slender-tailed Nightjar and Three-banded Courser, among others.
Accommodation review:
We stayed for two nights at Tumbili Cliff Lodge, and again we were the only guests there. The lodge was great, with wonderful rooms affording splendid views over the lake. The rooms were very large, with almost a hybrid chalet / tent style - solid walls and roof but large openings facing the lake that had canvas screens and mesh screens that can be closed up. The food was more basic that what we had at some of the other establishments, but very good nonetheless, especially considering the remote location.
5. Kakamega Forest.

Kakamega Forest - one of the destinations we'd all been awaiting with great anticipation. Forest birding is exciting stuff - the sounds, great birds - some very colourful, the challenge of getting views in the dense foliage... As it's such a 'big name' in Kenyan birding, we scheduled three nights here. It's a rain forest after all, and you want to give yourself enough time so that an afternoon of rain is not catastrophic. As it turned out, we had plenty of time, though we did have one afternoon of rain that was strong enough to confine us to the cabins. With the assistance of local guide Patrick, we saw some incredible birds, including Great Blue (above), Ross's and Black-billed Turacos, Yellow-billed, Grey-chested and Yellow-spotted Barbets, African Crowned Eagle (a pair nest in the gardens, and the newly-fledged youngster was hanging about, begging to be fed, though we never saw the adults), Turner's Eremomela, Blue-headed Bee-eater, Snowy-crowned and Blue-shouldered Robin Chats, Jameson's and Yellow-bellied Wattle-eyes, African Blue Flycatcher, Red-tailed Bristlebill and many more. On the mammal side we saw the spectacular Black-and-White Colobus monkeys a number of times, as well as Blue Monkey and Red-tailed Monkey. All in all it was a wonderful experience, and some of the best moments included the 'lawn birding' when we would sit out on the lawn with tea and cake and just watch the birds in the gardens and surrounding forest. All in all a tour highlight.
Accommodation review:
The accommodation at Rondo Retreat was fantastic - it's situated right in the forest, so you don't have to go far at all to get into some of the best areas, and indeed, one can see a lot just within the gardens. We stayed in a cottage - Founder's Cottage - with two totally separate rooms. Food and service were excellent as well (bear in mind that they don't serve alcohol, so you need to take your own), and they have local guides on site to take you into the forest and show you the birds.
6. Kisumu, Lake Victoria.

To break up the journey from Kakamega to the Mara, we had a one night stop in Kisumu, on Lake Victoria. Kisumu is one of Kenya's largest cities, so is a far cry from the likes of Samburu or Lake Baringo, but still offers some good birding opportunities. Unfortunately our stay coincided by a political rally by the opposition party, which got quite lively (though the action was confined to a few spots on the outskirts of the city center) and meant that our birding was curtailed somewhat, as initially there was no guarantee that the protestors would not be able to make it to the city center. We did visit Hippo Point, and took a short boat ride, but unfortunately missed the Papyrus Gonolek, the main target for the spot. We did see Swamp Flycatcher, Red-chested Sunbird (above), Greater Swamp Warbler, Woodland Kingfisher, Carruther's Cisticola, Slender-billed, Golden-backed and Northern Brown-throated Weavers, a variety of Herons, Storks etc. In the afternoon we were confined to the hotel, and met up for drinks at the rooftop bar at sunset, before dinner. 
Accommodation review:
The hotel is just what you'd expect - a bit city hotel, but with good service and rooms, and well-located. Not many other options anyway!
7. Mara Triangle Conservancy.

Our penultimate stop was at Mara Serena, a 'lodge' overlooking the Mara Triangle, which is a private conservancy bordering the Masai Mara National Reserve. As Kenya's most famous wildlife area, 'the Mara' is just as spectacular as you'd imagined it to be. Vast grassy plains seem to stretch on forever, broken here and there by a rocky ridge, a river course or stand of large trees. After good rains (there was an impressive amount of storm activity every afternoon, though somehow it was always around us, not over us) it was looking incredible - green and vibrant, with some impressive animal numbers, despite it not being anywhere near 'migration season'. Green and wet always makes for tougher predator viewing, but that was OK, as sleeping Lions weren't a priority for us anyway. Green and wet does make for good birding though! Highlights included Rosy-throated Longclaw, Schalow's Turaco, Great Spotted Cuckoo, Temminck's Courser, Grey Kestrel, Yellow-mantled Widowbird, Black Coucal, Meyer's Parrot, Jackson's Widowbird (some seen doing their 'Jack-in-a-Box' display), Red-cowled Widowbird, Secretarybird, Kori Bustard and many others. Mammal highlights included Cheetah, Lion and Serval, plus a wonderful array of plains game, such as these Topi above.
Accommodation review:
Mara Serena safari lodge is situated on a hill, with astounding views over the Mara River and surrounding plains. Food is good, plentiful and varied, service is good and the location is tops. Those are the pro's. The con's are that it is large, hotel-like and the rooms are not that well insulated against sound, so you can hear people walking past outside etc. However, there's really not much choice, and we elaborate in the full trip report, but suffice to say, it was still a great stay.
8. Masai Mara National Reserve.
The last stop on the safari was at Mara Bush Camp, in the national reserve. And what a great end it was. The accommodation was just superb (see more under Accommodation Review), the birding and game viewing was great - it's always nice to end on a high note! We had a great Lion sighting on the first afternoon drive - a lone male looking over a crossing point on a river. At one point a lone Wildebeest crossed the river, unknowingly walking past quite close to the Lion, but fortunately separated by a deep gully. Leopard was high up on our want-list, but unfortunately it wasn't to be - have to leave something for another time! We saw Cheetah again, plus plenty of Spotted Hyenas, as well as Bat-eared Fox as a highlight, and a great pre-sunrise sighting of a Masai Giraffe silhouetted against an orange sky (above). Bird-wise Southern Ground Hornbills were a highlight, as was a Secretarybird flying right over the vehicle. With some rain in the area (but not where we were) the roads got a bit tricky, so we had to be careful of where we drove, and indeed got stuck once. It was good to appreciate the differences between the Mara Triangle and the Masai Mara, which can only sink in when experienced first hand. See more about this in our Full Trip Report. 
Accommodation review:
For once the renovations worked in our favour. Mara Bush Camp was closed for a 'soft refurb', so we were upgraded to the Private Wing, with absolutely fantastic tents looking directly into the river. Of course, this was a one-off, and so next time we'll be back in the 'main camp', but that's not a bad thing by any means! The main camp tents are spacious and private, set in a patch of woodland, and the in-camp birding looks like it'll be first rate. Either way, you can't go wrong. The service is outstanding, and it's a perfect way to end this safari. 
Top birds for the safari:
Somali Ostrich, Vulturine Guineafowl, Great Blue and Ross's Turacos, Three-banded Courser, Grey Crowned Crane, Secretarybird, African Crowned Eagle, Greyish Eagle Owl, Jackson's Hornbill, Blue-headed and White-throated Bee-eaters, Yellow-billed Barbet, Red-and-Yellow Barbet, Pygmy Falcon, Red-bellied Parrot, Yellow-bellied Wattle-eye, Mackinnon's Shrike, African Blue Flycatcher, Red-tailed Bristlebill, Turner's Eremomela, Golden-breasted and Bristle-crowned Starlings, Blue-shouldered Robin Chat, Jackson's Widowbird, Red-headed Bluebill, Rosy-throated Longclaw (among others!).
Top mammals for the safari:
Eastern Tree Hyrax, Red-tailed Monkey, Black-and-White Colobus, Cheetah, Serval, Lion, African Wild Dog, Grevy's Zebra, Desert Warthog, Gerenuk, Reticulated, Masai and Rothschild's Giraffes.
Client comments:
"We've just returned from our fifth safari with Lawson's and can say without reservations that they always pull together amazing trips. The latest was our first time to Kenya, doing a comprehensive trip that hit the areas that were most interested in. It was a remarkable trip from the beginning right until we were dropped at the airport in Nairobi. We'd wholeheartedly recommend Lawson's, and this trip to Kenya" - Hugh and Angie Tyner, GA, USA.
See the full report and species checklists here - 2023 Birds & Wildlife of Kenya Trip Report.