Raptors of the Kruger National Park
Birding the Kruger: the Raptors.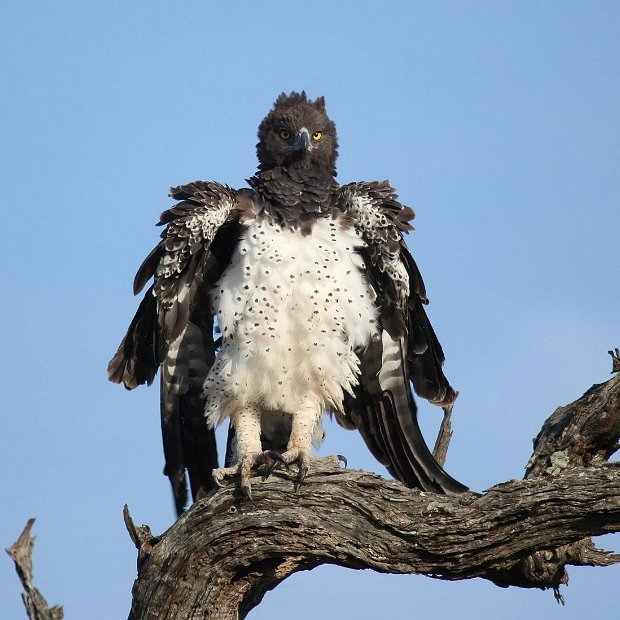 Raptors of Kruger.
What raptors can you see on a Kruger National Park Birding Safari?
For many a birder, the raptors are a firm favorite, embodying power, grace and beauty, and seeing a new species of raptor is sure to get the pulse rate up for a few minutes. They make great photographic subjects and, when on an African birding safari, new species of raptor are bound to be seen pretty regularly, adding up to an exciting experience indeed...
With an abundance of food, there are few places that offer such a number and variety of birds of prey as the savannas of Africa. And there are few large, savanna-dominated parks that are as affordable and easily accessible as the Kruger National Park of South Africa, which offers some superb raptor viewing indeed...
If you are keen on raptors (and which birder in their right mind isn't?), then you're in for a real treat on a Kruger National Park birding safari. The Kruger has an impressive array of birds of prey, from the rapacious Little Saprrowhawk, no bigger than a small dove, to the mighty Martial Eagle, one of Africa's largest and most powerful birds of prey. There are 46 species to be exact (excluding the rarer vagrants such as Palmnut and Egyptian Vultures, Sooty and Western Red-footed Falcons). These belong to 4 distinct families - the majority fall into the Family Accipitridae (31 species); the Falcons and Kestrels belong to the Family Falconidae (7 species); while the remaining 2 species belong to their own families, Saggitariidae in the case of the Secretarybird, and Pandionidae in the case of the Western Osprey.
Many are resident species, but raptor viewing is best in the summer months (October - March) when the Intra-African migrants, such as Wahlberg's Eagle and Yellow-billed Kite, and the Palearctic Migrants, such as Pallid and Montague's Harriers, Steppe and Lesser-spotted Eagles, are present. That being said, any time of the year provides rewarding raptor viewing, as well as general birding (the list for the park stands at over 500 species!). So there's no bad time for a birdwatching tour in the Kruger...
Commonly seen species include five types of Vulture (African White-backed, Cape, Lappet-faced, Hooded and White-headed Vultures, and sometimes all can be present at one carcass); big, impressive eagles such as Martial, Tawny, Wahlberg's and Lesser-spotted Eagles (the latter two in summer only); the stunning Bateleur, one of Africa's most attractive birds of prey; Brown and Black-chested Snake Eagles; the dapper African Fish Eagle; African Hawk Eagle; the rather unique African Harrier Hawk; a number of Accipiters such as Little Sparrowhawk, Dark Chanting, African and Gabar Goshawks, Lanner Falcon, Lesser Kestrel, Eurasian Hobby and Eastern Red-footed Falcon (the latter three in summer only), and oddities such as the Secretarybird. Less often seen species include African Cuckoo Hawk, Ayres's Hawk Eagle, Long-crested, Verreauxs' and Crowned Eagles, Montague's and Pallid Harriers (summer only) and Dickinson's Kestrel.  
And finally, some more unusual species recorded include Bat Hawk, Palmnut and Egyptian Vultures, Booted Eagle, Western Red-footed Falcon and Sooty Falcon. 
Some species are confined to certain areas - Dickinson's Kestrel, for example, is only found in the far north of the park - so if you are after specific species you need to do your homework. Or speak to the local experts (that's us...). Just to give you an idea, I trolled through some trip reports, and for an average 4 - 5 night stay in the south of the park we usually saw in the region of 20 - 25 different species of raptor. And if you want to have a chance at seeing a good number of Kruger's raptors, check out our 11-day Incredible Kruger small group safari (with more time, and more distance covered, you're bound to see more raptors). Or, if you also want a chance to see some raptors that don't occur in the Kruger, check out our Escarpment and Kruger Voyager tour (available as a custom trip). .
So, in conclusion, your won't be disappointed by the birding in general in the Kruger, and the raptor viewing is bound to be exceptional. The sight of dozens of Vultures thermalling together in a clear blue sky; hundreds of Wahlberg's, Lesser-spotted and Steppe Eagles converging on a giant Red-billed Quelea breeding colony; a stately Secretarybird stomping through the veld, or even just a Gabar Goshawk perching in plan view - these are some of the raptor highlights of the Kruger National Park.
Check out the gallery for some cracking Raptor images!