Lawson's recommends - Safari Lodges.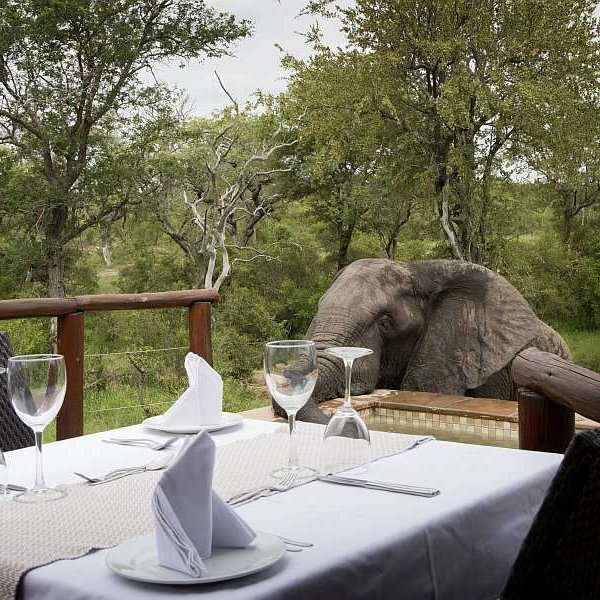 Choosing a safari lodge can be an intimidating and somewhat confusing exercise. Plug your search phrase into Google and you'll probably be rather overwhelmed by the results. And how do you choose? It's actually a case of too much choice, thereby making it difficult to choose! 'Insider' recommendations can go a long way in helping you make up your mind. Over the years we've used a number of lodges in the Greater Kruger National Park, and there are a few that remain firm favorites. Here are 5 that we can thoroughly recommend (though there are many more out there). These are in no particular order, besides geographical location (going north to south).
This luxury tented safari lodge is set on the northern bank of the Luvuvhu River. The tents all have river views, and are well-appointed and very comfortable. And in fact, the views are so good that you actually have to drag yourself away from your private deck to eat food and go on drives. The lodge is situated in the private Makuleke Concession, between the Luvuvhu and Limpopo Rivers. This is arguably the most scenic part of the entire park, with orange sandstone ridges, ancient Baobab trees, Fever Tree 'forests', impressive riverine forest, large seasonal pans etc. We consider Pafuri Camp to be a birding camp primarily. The birding here is some of the very best that the Kruger, and indeed the whole country, has to offer. There are animals to be seen as well, but predator viewing is generally far better in the central and southern parts of the Kruger. But for us, the birding and scenery is enough to make it a really worthwhile destination. See their website.
2: Mohlabetsi Safari Lodge, Balule Nature Reserve.
There's no doubt that, prior to Covid-19 at least, the safari lodge industry seemed to be moving steadily towards the super luxury end of the scale. One would hear about a new lodge opening and on checking the website be dismayed that it's yet another 5-star plus facility with massive 'suites' and even bigger price tags. Sure, these are nice, but how many real 'nature people' can afford them? In general our clientele expect clean, comfortable accommodations, good food and service, but game viewing, birding and location are the primary considerations, and a low-key establishment like Mohlabetsi fits the bill nicely. Mohlabetsi is family-owned lodge, located in Balule Nature Reserve, which is part of the Greater Kruger National Park conservation area. The lodge sleeps only 20 people, and the owners, Tony and Alma Williamson, really get it right – the whole 'vibe' is very friendly and welcoming. You don't feel like a number here, you feel like a real friend! With affordable rates and more comfort than you could want for, Mohlabetsi is a real winner. The game viewing is good as well and it's a great reserve for waking trails. See their website.
The Sabi Sand Game Reserve.
The Sabi Sands, as the reserve is called, is a private reserve made up of multiple land owners, and is part of the Greater Kruger National Park. There is no fence between the reserve and the neighboring Kruger National Park, so animals are free to move between the two. It's widely regarded as South Africa's premier private game reserve, with some ultra-luxury lodges, offering some of the very best big cat viewing on the continent – and this is primarily a game viewing destination (there are great birds to be seen, but when you have almost unbelievably good game viewing at hand, you make the most of it!). And while there are those out there who want to spend serious buckets of money for serious luxury (umpteen bathrooms, private splash pools, private butlers etc), we tend to focus on the more affordable, down-to-earth lodges, offering plenty of comfort plus great game viewing. Why pay substantially more for one lodge when another one offers more than enough comfort plus the same game viewing?
3: Elephant Plains:
This lodge probably offers the best value for money in the entire reserve. We like the 'rondavels', which are more affordable and also more than comfortable. But if you have a bit extra, the luxury rooms are even better, if only for the views. The lodge is situated in the northern part of the reserve, accessed via Gowrie Gate. And Elephant Plains offers outstanding Leopard viewing in particular, plus of course the other big game species. The food is excellent as well, and the general lodge areas are very pleasant, with views over a riverbed to a waterhole on the other side that's often packed with Elephants during the heat of the day. The only slight downside is that it's a 'larger' lodge, accommodating up to 24 guests, but still, you can't really go wrong with Elephant Plains. See their website.
4: Nkorho Bush Lodge.
Nkorho is another family-run lodge, based in the north of the reserve and right on the boundary with the Kruger National Park. It's nice and small, accommodating only 16 guests, and always has a family-feel to it – from the moment you arrive you feel most welcome. It also has a bit of a 'heyday of safari' charm to it – not to say it's lacking in anything, but it has the ambiance and character of a place that's been around for a while. And regular upgrades and improvements have kept it modern at the same time. The rooms are more than comfortable, the food and service are all top class. And the advantage of the location on the boundary with the Kruger is that you never know what's going to cross over for a drink at the camp waterhole – you can be eating dinner and next minute get the call to go and see a pride of Lions taking a drink. That's part of the excitement that Nkorho offers. See their website.
5: Idube Game Reserve:
The third of our Sabi Sands lodges, Idube is another family-owned establishment, located in the 'western sector' of the reserve. The nice thing about this area is the access to the Sand River, and the 10 000 hectare traversing area is just superb. Idube is also a smaller lodge, accommodating a maximum of 18 guests. The rooms are well-appointed and very comfortable; there are standard chalets, as well as three luxury suites for those who want a bit extra. Idube also offers a welcoming, homely ambiance, wonderful food, top class service and of course great game viewing – the southern plains of the traversing area are ideal for Cheetah, while Leopards, Lions and even Wild Dogs are found throughout the area. There's a sunken hide looking on to a waterhole for photography in the camp (accessible at your leisure during the day), and the Nyala and Warthogs that frequent the lawns just add to the charm of Idube – but keep your eyes open, as the resident Leopard may just come waltzing through the camp looking for a chance to catch an unsuspecting Nyala or 'hog! Indeed, a stay at Idube is pure excitement from start to finish, and it's the kind of place that often turns first-time visitors into repeat guests. See their website.