Tent interior by Stu Porter
Featured Safari Lodge - Elephant Bedroom, Samburu.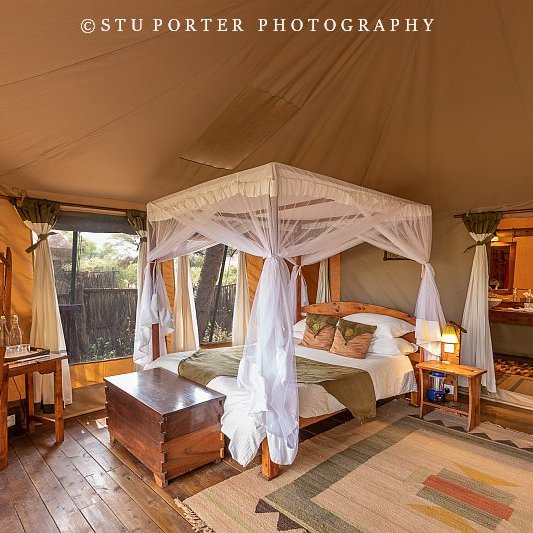 The small safari lodge concept is done better in Africa than anywhere else, and we are fortunate to have visited a fair few on our tours and travels. This month's featured safari lodge is Elephant Bedroom Camp, located in Samburu National Reserve, Kenya.
Featured Safari Lodge: Elephant Bedroom, Samburu.
We can't wait to return to this safari lodge! Samburu is often overshadowed by the likes of the Masai Mara, but it's a great reserve in its own right, and so different to the Mara that it is a must-visit on any Kenyan safari itinerary. And Elephant Bedroom safari lodge is the perfect base from which to explore the reserve.
Accommodation:
Tented camps provide the quintessential African safari lodge experience - the 'romance' of a bygone age coupled with comfort and a relatively small ecological 'footprint'. But leave behind your ideas about 'tents', as most tented camps are on a whole different level to what you may have in mind. And Elephant Bedroom is no exception. The 14 spacious safari tents are set on decks in linear layout along the bank of the Ewaso Nyiro river. They have a double layered 'tropical roof' set up to keep them cool (one disadvantage of improperly designed safari tents is that they can be hot inside, but a tropical roof or thatched covering moderates the temperature). They are large, airy and tastefully decorated, with en-suite bathrooms. They have private decks in front, complete with a small splash pool (be aware that the pool is covered at night so you don't immediately notice that there's a pool there - one our last visit I took an unplanned night swim!). The decks provide a good place to while away the hot hours, and don't be surprised if an Elephant comes wandering past – the camp is unfenced, and Elephants often feed in and around the camp (hence the name). There are great birds to be seen from the decks as well, so all in all, 5/5 for the tents!
Dining and communal areas:
The lounge and evening dining area is set on another deck overlooking the river, while the lunch area under shady trees on the river bank is wonderful – you'll have 'lifers' (a lifer is a bird species seen for the first time, for the non-birders) pecking around at your feet! And of course, the food is great - it's always amazing to see what incredible dishes come out of basic, remote kitchens!
Game Drives:
When we visit Kenya, we always do our own game drives, as opposed to joining the drives offered by the various lodges or camps. So, at Elephant Bedroom we didn't get to go out with their guides, but rather went out with our guide and vehicle from FACT Safaris, our local ground agent. As usual we went out on extended drives, taking a packed breakfast and lunch with us and only returning to camp in the late afternoon. The reserve itself is spectacular, with ample and varied bird life (it's a superb bird photography venue), and plenty of special species to be seen including the 'Samburu specials': Reticulated Giraffe, Gerenuk, Grevy's Zebra, Beisa Oryx, Desert Warthog and Vulturine Guineafowl. Predators are also common, and one can expect great Lion and Leopard sightings. Thoroughly enjoyable overall.   
Location:
The location on the river is superb. The majestic Doum Palms on the banks are just so characteristic of the reserve. There are other lodges in the reserve that are situated in the rocky hills, giving wonderful panoramic views out over the arid plains, but being close to the river puts you closer to the action…
The Lawson's rating (out of 5):
Accommodation: 4.5 – wonderful, as mentioned.
Communal areas: 4.5
Food: 4 – tasty and wholesome.
Location: 5 – the river is the place to be!
Game Viewing & birding: 5 – Samburu is a real gem, especially in terms of birds.
Overall: 4.6.
Suitable for: anyone.
Recommended length of stay: 3 nights.
Special notes: don't fall into the splash pool!
Website: Elephant Bedroom Camp, Samburu
Visit Elephant Bedroom on our Birds & Wildlife of Kenya set-departure.