Sundowner stop in the Northern Tuli Game Reserve.
Featured Safari Lodge: Serolo Camp, Tuli, Botswana.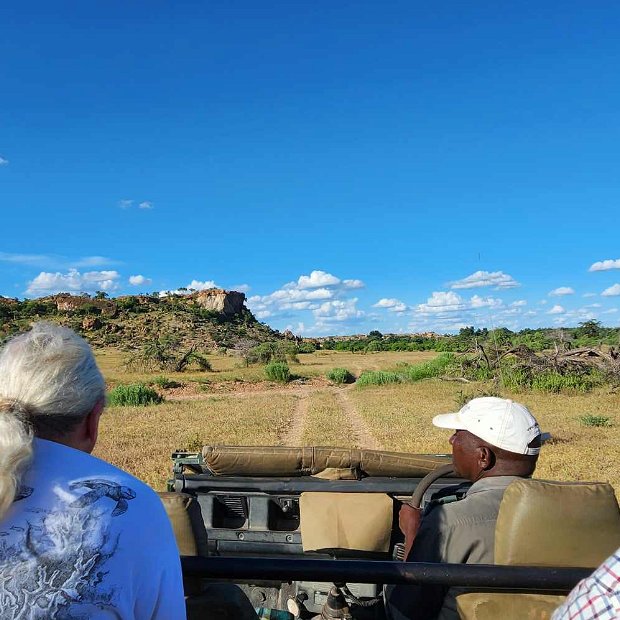 There are literally hundreds of private safari lodges throughout Southern Africa, all trying to entice you, the client, into staying with them, rather than the next-door lodge, or another lodge in another country. The competition is fierce! Of course, the price tag will be the initial filter, and we find that most lodges are getting to be very experinsive overall. Some are worth it, but some aren't, and many of these tend to be a bit ostentatious (100-square foot bathrooms, 'his and hers' showers, more food than one can possibly eat etc) and just 'over the top'. Other lodges don't try to compete in this market however, but rather aim at delivering perfectly adequate food and accommodations and a good safari experience at a reasonable price. And Tuli Wilderness's Serolo Camp, in the Northern Tuli Game Reserve, Botswana, is just such a camp...
Featured Safari Lodge: Serolo Camp, Botswana.
The Northern Tuli Game Reserve in south-eastern Botswana is an absolute gem. It's big, wild, has great birds and animals, and is just across the Limpopo River from South Africa, so is easy to get to. Now, you can pay quite a bit of money to stay at some of the more well-known safari lodges in the area, but if your budget is not unlimited, then Serolo Camp is the perfect alternative. 
Accommodation:
Tented safari lodges are awesome! Now don't think of the 'pup tent' you went camping in as a child... This is the 'safari tent' concept - large, spacious, with en-suite toilet and shower facilities, a small fridge, tea and coffee-making facilities. Some 'tents' really push the limit of being a tent at all, perhaps having brick and cement walls and just a canvas roof, but these at Serolo are authentic safari tents. They are reasonably spacious - though with two people sharing space for luggage may be an issue - and well appointed, again in a basic but functional way. There's a small porch to sit on during the day (facing out onto the well-wooded Limpopo River floodplain, with some great birds to be seen, and even animals such as Elephant passing by), and a nice standing fan to keep one cool in the heat. There are only five tents in the camp, so it's a small and intimate safari camp. All in all, we'll give the tents 4/5, a point dropped for being a little small for two people sharing who may have lots of luggage... 
Dining and Communal Areas: 
Serolo Safari lodge scores once again with simplicity. There's a small lounge area for reading and relaxing, and an outdoor dining area in the shade of a giant Mashatu tree, as well as a small plunge pool, all looking out onto a small water hole. The waterhole is lit by night, allowing one to see what comes down to drink, though at the time of our most recent visit (January 2023) the Fever Berry trees were blocking the light from actually shining on the waterhole, which will hopefully be addressed. The food was good overall, and chefs Kenny and OT were very engaging, giving us many good laughs during our stay there. They even went to the trouble of arranging a bush dinner on our last night, which was just magical. 
Game Drives: 
With three nights at the lodge we had 6 drives in total. Field guide Jou knew the area very well, and showed us some great birds and animals. Mammal highlights included a Cheetah, which hung around for at least 2 days, a Brown Hyena (seen at its den twice), Bat-eared Fox, a pride of Lions (seen once), and then the usual plains game such as Eland (well, not so usual!), Plains Zebra, Kudu, Common Wildebeest, Impala etc, and all the young Wildebeest calves were just so special to see. This was a high summer visit, so by the time we got back to camp in the evenings it was still quite light, which limited the 'night drive' experience. But if you're there in other seasons, when the sun sets earlier, the chances are much better of seeing some unusual things such as Aardvark.
On the birding side, highlights included Pel's Fishing Owl, Verreaux's Eagle, African Hawk Eagle, Temminck's Coursers (very plentiful!), Kori Bustard, Woodland Kingfisher, Southern Carmine Bee-eater, Double-banded Sandgrouse, Broad-billed Roller, Meyer's Parrot and many others. 
The roads in the rocky parts of the area can be rough, and it gets a bit uncomfortable at times, especially when sitting in the second and third rows of seats (though during our stay there was only a maximum of 5 guests on the vehicle at any one time, so we never had to sit in the third row, which can be brutal on rough roads). So, try and sit in the first row - your back will thank you for it! 
Location: 
The setting of the tented safari lodge on the Limpopo River floodplain is great, though you can't actually see the river, as the flood plain is pretty wide, and you don't want to be too close to a river that's prone to occasional flooding! And the flood plain is so densely treed with mature trees that you don't have much of a view, but the plus side is that there's good birding, and the trees help keep the area cool in summer. So, nothing wrong with the location, except that the game drive routes did get a bit repetitive, perhaps because most of the animals were holding in a certain area, so it was 'there and back' almost every drive. I did ask our guide if we could get into some new areas on the last drive (when it was just us on the vehicle), but we ran out of time. But the plus side is that we were close to the Limpopo River, meaning we didn't have far to drive to get to the Pel's Fishing Owl stakeout. Their other, exclusive-use camp, Mohave, is situated away from the river, in the center of the area in which we spent most of our time while on drives, but is then a long way away from the river... So, pro's and con's! 
The Lawson's rating (out of 5):
Accommodation: 4 – perfect on terms of a more affordable safari lodge
Communal areas: 5 - again, just what one needs, nothing 'over the top'. 
Food: 4 – no complaints, except that there was only instant coffee available, which is ok for a pre-drive cup, but for breakfast 'proper' coffee is needed. Fortunately, we had a plunger and filter coffee with us! 
Location: 4 – great to be close to the river, but as mentioned, during our three nights there, the routes were a bit repetative. 
Game Viewing & birding: 4.5 – some classic big game species as well as the more unusual things such as Brown Hyena and Bat-eared Fox. We missed seeing Leopard, and apparently this area of the reserve is not as good as Mashatu (next-door) in terms of Leopard sightings, but then you're paying far less than you would at the more expensive neighbour, and you only share your sightings with at most two other vehicles... And on the birding side, Pel's Fishing Owl and the nesting pair of Verreaux's Eagles at Eagle Rock are a big plus. 
Overall: 4.4.
Suitable for: anyone. 
Recommended length of stay: 3 nights.
Special notes: the road from Platjan border post is quite bad, so it takes at least an hour to get to the camp from the border.  
Website: Tuli Wilderness Trails - Serolo and Mohave Camps. 
Visit Serolo Camp and the Northern Tuli Game Reserve on a Lawson's custom birding and wildlife safari.