Birding Tours: the Larks of Southern Africa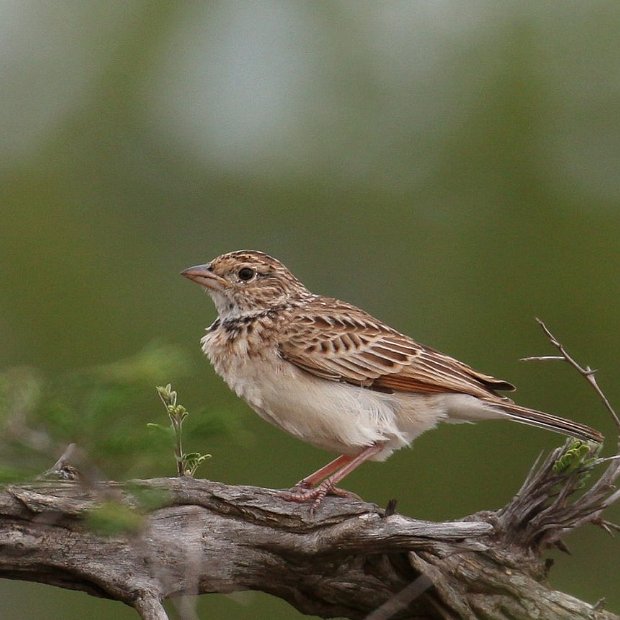 If you are coming on a South African birdwatching trip, be prepared to see a lot of Larks!
Larks have featured in the writings of playwrights and philosophers throughout written history. And while they are generally not much to look at (for the average person that is), their beautiful calls are perhaps what has given them a place in the mind of man. Southern Africa is generously endowed with Larks (Family Alaudidae), sporting no fewer than 31 species, with 16 of them endemic to the region and 10 near-endemic (Chamberlain's Guide to LBJ's by Faansie Peacock). Now for beginners especially, and those on their first African birding trip, Larks can be a bit of a daunting group to get to grips with, though in reality they aren't too challenging (or at least not as challenging as the Pipits and Cisticolas!). So let's take a look at some of the Larks one may see on a typical birding tour to South Africa.
For those considering a South African birding tour, and who are keen enough to get to grips with the LBJ's ('Little Brown Jobs'), and Larks specifically, it pays to break them down into basic groups, as per the excellent book on Southern Africa LBJ's by Faansie Peacock (Chamberlain's LBJ's). This book is the definitive guide to Larks, Pipits, Cisticolas and other challenging groups of birds. Why not order a copy and do some research before you start your birding trip? 
Lark groupings - narrow them down to group level.
As with all challenging bird Families, it helps immensely to break them down into broader groups, or Genera in some cases, and to eliminate species by distribution and habitat. That way you go from four or five pages of superficially similar birds to perhaps a handful of likely candidates in any given case. And, fortunately, their calls and displays are sufficiently unique in general to allow for easy-ish identification to species level.
Within the Lark Family, there's firstly the Long-billed Lark Complex, which includes the five Long-billed Larks (Eastern, Cape, Agulhas, Karoo and Benguela Long-billed Larks), as well as Short-clawed Lark. And yes, these Larks generally have obviously long bills, the Cape having the longest of them all. The Short-clawed Lark has a very limited distribution in Southern Africa, occurring in savanna and thornveld in the Limpopo Province and North West Province of South Africa, and in the Gaberone area of neighboring Botswana. By far the best place to see this species is Polokwane Nature Reserve, just outside the town of Polokwane. The Long-billed Larks are pretty much separated geographically, though there can be some overlap, such as between Karoo and Benguela Long-billed Larks in the Brandberg region of Namibia. Eastern Long-billed inhabits the grasslands of eastern South Africa; Cape is restricted to the west coast of South Africa, from about just north of Melkbosstrand up to the Orange River valley; Agulhas is restricted to the Agulhas Plain; Karoo occupies the arid Karoo and southern Namib Desert; while Benguela occurs on the coastal plain of Namibia.
The next group is the Karoo Lark complex, which includes Dune, Barlow's, Karoo and Red Larks. Fortunately, these are also separated geographically - Dune is exclusive to Namibia (best seen on the way to Sossusvlei and at Rooibank near Walvis Bay), and is in fact Namibia's only true endemic; Barlow's is found along the west coast in the area where South Africa and Namibia meet; Karoo, as its name suggests, is found the the Karoo region, and Red Lark is found on Kalahari sands in South Africa's Northern Cape Province.
We then have the Clapper Lark group, made up of Eastern and Cape Clapper Larks and Flappet Lark, all of them using sounds made by the rapid clapping of the wings in their display flights, which are pretty cool to see! Eastern and Cape Clappers are pretty much separated geographically, with Cape hugging the coast and adjacent inland areas between the far south of the Eastern Cape Province and up the west coast to the border with Namibia, while Eastern Clapper Lark is generally found in the grasslands of the central part of the sub-region, though they may co-occur in the south-eastern corner of their respective ranges. Flappet Lark is found in the open savannas of the north-east of the sub-region, though in places such as the Kruger National Park they seem to be becoming scarce in certain areas due to bush encroachment.
Then there are the small grassland larks, comprising Rudd's, Botha's and Pink-billed Larks. The first two are endemic to South Africa, and listed as Vulnerable and Endangered respectively. And by far the best place to see these is Wakkerstroom, in southern Mpumalanga Province. Pink-billed is far more widespread, occurring across much of central Southern Africa.
Then there are the three small desert Larks, namely Sclater's, Starks and Gray's Larks. The Bushmanland area of South Africa is the best place to look for Sclater's Lark; Stark's occurrs across much of Namibia and into South Africa's Bushmanland; while Gray's is a resident of the coastal Namib Desert, and it's fantastic to see them in their austere environment.
Then there are two savanna Larks - Sabota and Fawn-coloured Larks. The former is by far the most commonly seen Lark in the Kruger National Park; while Fawn-coloured occurs on sandy soils, and is found across much of the Kalahari sand basin but spills over into southern Mozambique.
Then there are four Larks that don't really fit into any particular group, namely Dusky, Spike-heeled, Red-capped and Large-billed Larks. Dusky is an intra-African migrant and in Southern Africa is found mainly in savanna habitat during the summer months (October - April); Spike-heeled occurs in a wide range of habitats from grassland to Karoo, Kalahari and even into the Namib Desert; while Large-billed is pretty much endemic to South Africa, found from the west coast as far east as the high plateau of Lesotho.
Then there are the three Larks in the Mirafra Genus, namely Melodius, Monotonous and Rufous-naped Larks. Melodius is endemic to the grasslands of central South Africa; Monotonous occurs across much of northern Southern Africa, often 'erupting' into areas such as the basalt grasslands of the Kruger National Park after good rains; while Rufous-naped is common across mush of the region except for the west and south-west It's common in the Highveld grasslands, such as found in Rietvlei Nature Reserve between Johannesburg and Pretoria, and its call is one of the classic summer sounds of the grasslands.
And finally, there are the Sparrowlarks of the Genus Eremopterix, or 'desert bird'. There are three in this Genus - Grey-backed, Chestnut-backed and Black-eared Sparrowlarks. As their common name implies, they are more sparrow-like than other larks, less upright and with shorter legs. Grey-backed is more prevalent in the west of the sub-region; Chestnut-backed in the wetter east and north-east (Kruger National Park is a good place to see this bird); and Black-eared is endemic to southern Namibia and north-west South Africa.
So that's 31 species in a nutshell!
Which of our birdwatching trips offer the best chances for Larks?
If you are considering a birdwatching trip to South Africa, or somewhere in Southern Africa, and you have a liking for Larks (or at least want to see as many of the endemic birds as possible), then the arid interior and western coastal region of South Africa have the most to offer in terms of Larks. And we've developed a two-part birding safari that is purposefully designed to give participants a chance of seeing most, if not all, of the Larks and other endemics and specials of South Africa. Take a look at our Western South Africa and Eastern South Africa Endemics birding tours. And for a chance to see loads of Larks in Namibia, check out our Essential Namibia birding trip.